Seen on Penn & Teller: Fool Us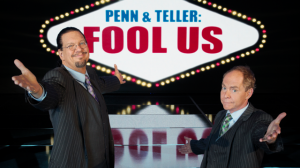 Now you can learn the secret to this amazing magic routine. This is the trick that Paul performed for Penn & Teller and the amazed TV audience. In detailed DVD instructions Paul provides step by step instructions on the special shuffle required to master this mind-boggling routine. You get both the instructional DVD and a custom made Unshuffled Deck (Red backed/Phoenix Brand) hand-crafted by Paul Gertner.
SPECIAL NOTICE!!!
This is an ADVANCED Magic Routine and is NOT self-working… it will require many hours to master.
As Penn stated on the show many magicians will spend months and even years to learn the technique that is required for the performance of UNSHUFFLED. With Paul Gertner's instruction it is possible! This trick is not recommended for the beginning magician or those with only a passing interest in magic.
SECOND SPECIAL NOTICE!!!
On the show Paul added a special PENN & TELLER ENDING to the trick which was specifically designed to Fool the Boys…. And it Worked.
This version of UNSHUFFLED is Paul's Classic Routine and DOES NOT include the special PENN & TELLER ENDING. The special PENN & TELLER ENDING that totally FOOLED Penn & Teller is currently in production and it will be released at a later date. (hopefully by December 2016.) Click here to be the first to know when the Penn & Teller Ending is released.