VOLUME ONE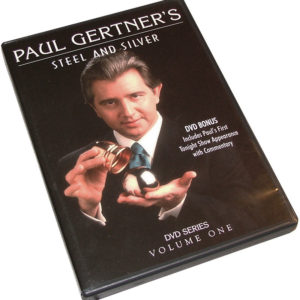 Paul Gertner's Steel and Silver DVD Series, Volume One
brings his book to life as Paul performs his incredible magic in a hospitality suite situation. Then Paul explains in detail, the step-by-step secrets behind the magic. Plus, he'll also provide "Paul's Points" – invaluable performance philosophy, tips and suggestions to help turn your performance into a true miracle.
Volume One Includes:
Triple Die-lemma
A Familiar Ring
The Vanishing Card Stab
Bill in the Cigarette
Photo Copy
Salt Shaker Surprise
Ring Thing
Thumb Tip Corner Switch.
DVD Bonus, Paul's first appearance on the Tonight Show with commentary.
$35 plus shipping and handling